All the tools you need for business success.
Whether you are a business looking for an all-in-one system, or a one-person shop looking for a quoting tool, Acrual will work for you.
Instant access to your free 30 day trial, no credit card required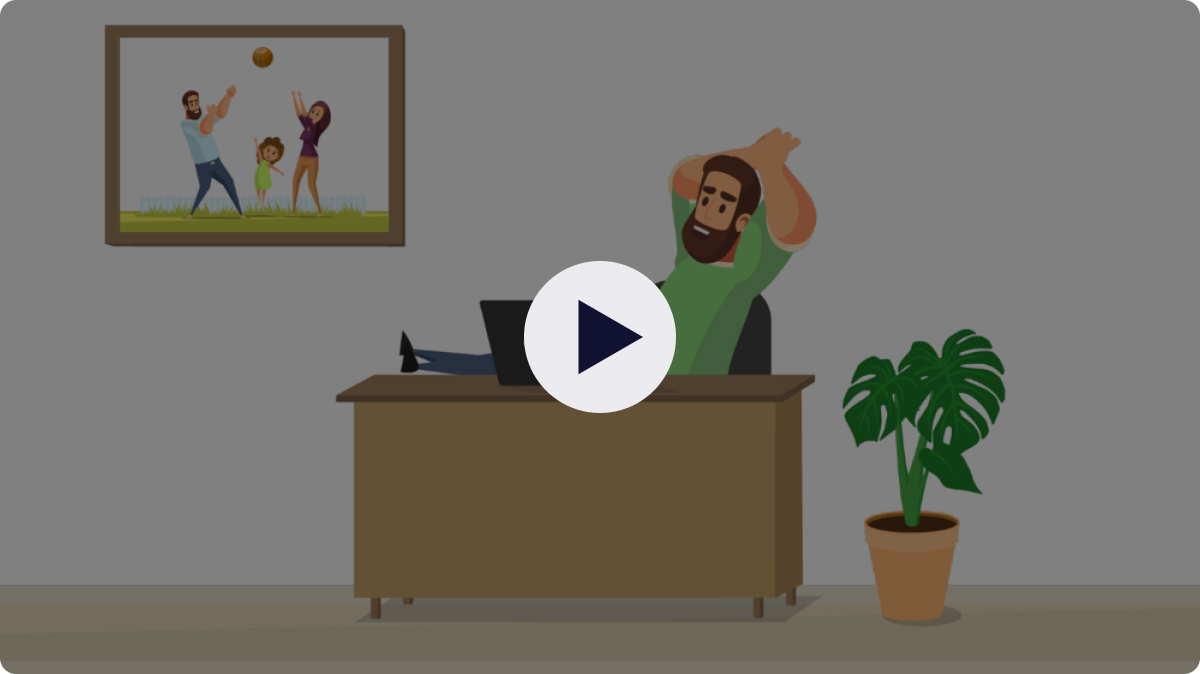 Quoting software
Can you imagine having automatically generated quotes from your estimates? Acrual generates quotes without you having to copy and paste, re-doing layouts or manually entering data. All in one simple click.
Quotes can then be emailed straight to clients without leaving Acrual. This makes it possible to do an entire quote from your smartphone, right from doing an estimating through to sending the quote to the client.
Quoting software like you've never experienced.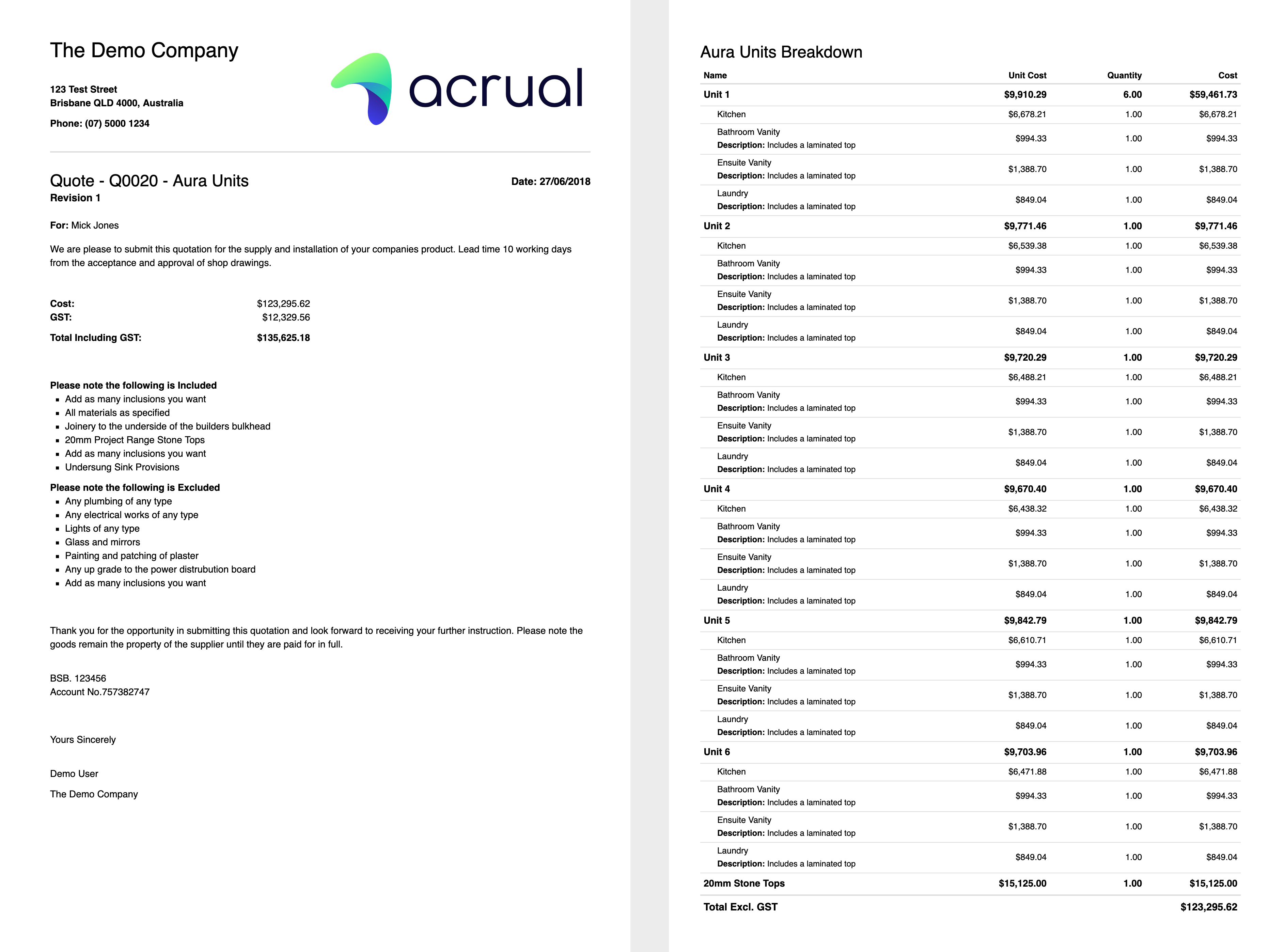 Estimating software
Is estimating a hastle that you don't look forward to?
With Acrual estimating software, it's easier than ever before with our unique design. You can quickly do an estimate by dragging-and-dropping items from your own customised library.
You can even deal with changing requirements by swapping out whole sets of materials in just a few clicks. Don't be caught out by your client changing their mind ever again.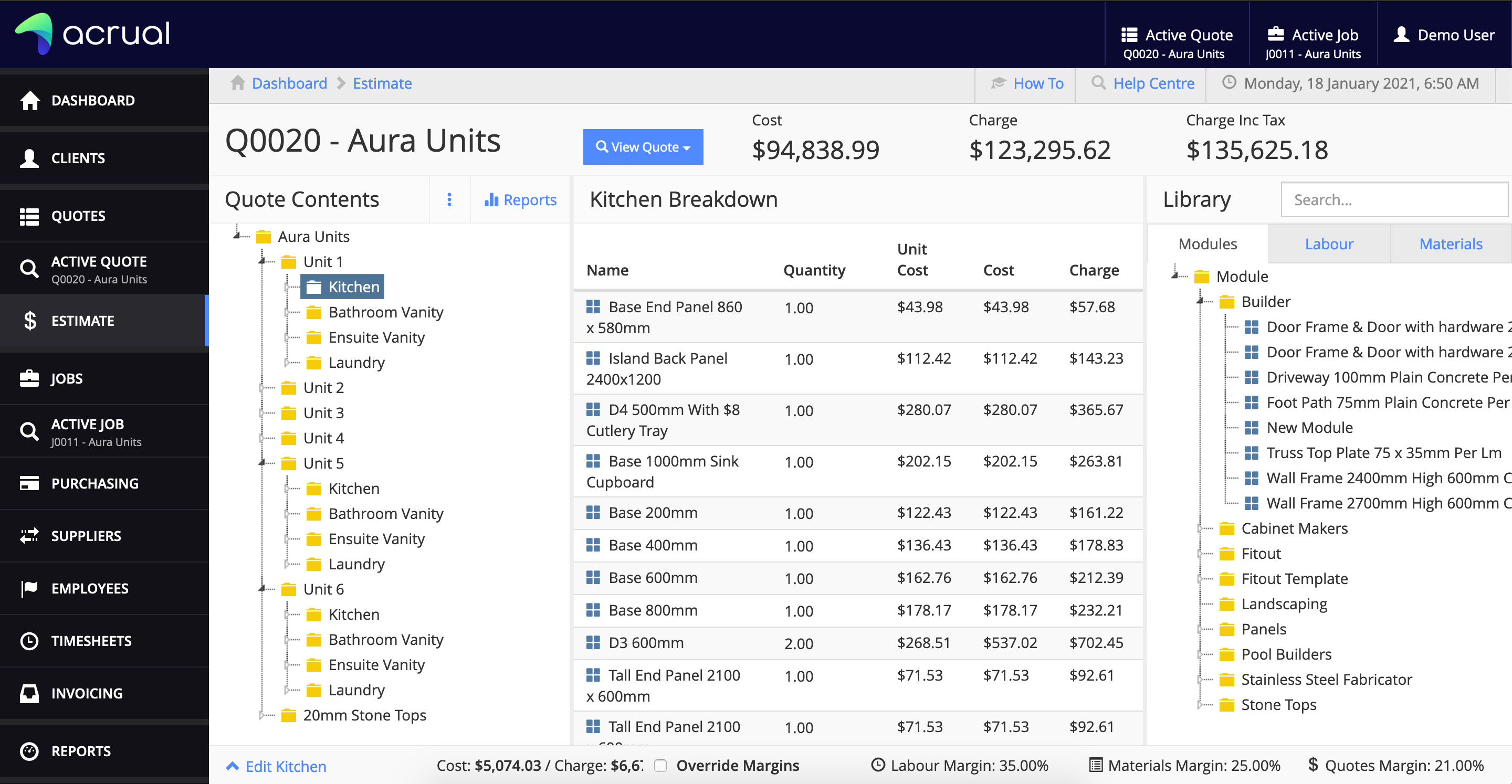 All the features you need
Wondering if Acrual has something in particular? Check below for more details.
Clients
Use Acrual to easily store your client information so everything is in one location. Client information can be reused across quotes and jobs, removing the need for manual entry in every document.
Quoting
What could be better than auto-generated quotes? Acrual will create your quotes automatically based on your Estimates - no need to re-layout or manually enter data. Quotes can then be emailed straight to clients.
Estimating
Finally, the Estimating software that you're looking for. Put your own custom library to work to quickly build Estimates by dragging and dropping. Acrual has a range of powerful estimating tools to make the job easy.
Jobs
Manage your jobs right from tendering all the way through to hand-over. Use Acrual to do all of your jobs purchasing, timesheeting, invoicing and reporting - all in one place.
Purchasing
Quickly place purchase orders for any job. You will easily see what needs to be ordered and at what price. Purchasing is powered by your Estimates - no need for flipping back and forth between documents.
Timesheets
Your employees can load their timesheets straight into Acrual by using our simple Mobile App. The double entry required with paper timesheets is a thing of the past.
Invoicing
Invoices and Progress Claims can be generated straight from your Estimate - no copy-pasting required. Creating Progress Claims is as simple as filling out the percentage complete for each part of your job. No spreadsheets required!
Reporting
With a variety of rich reports at your fingertips, you'll have full oversight over your business. See work coming into and out of your business and monitor profit and losses, right down to a per-job level.
Not sure if Acrual has the features you need? Get in contact with us and we'll be happy to help out. We're always looking for feedback and feature requests to make Acrual even better.