Make it easy with Acrual estimating software
Effortlessly build estimates by drag and dropping items from your custom library. Acrual has a range of powerful tools for easy estimating.
Estimate faster and more accurately than ever before
Drag and drop prebuilt items to quickly estimate any job
Tailor the library with your modules, labour and materials
Instant access to your free 30 day trial, no credit card required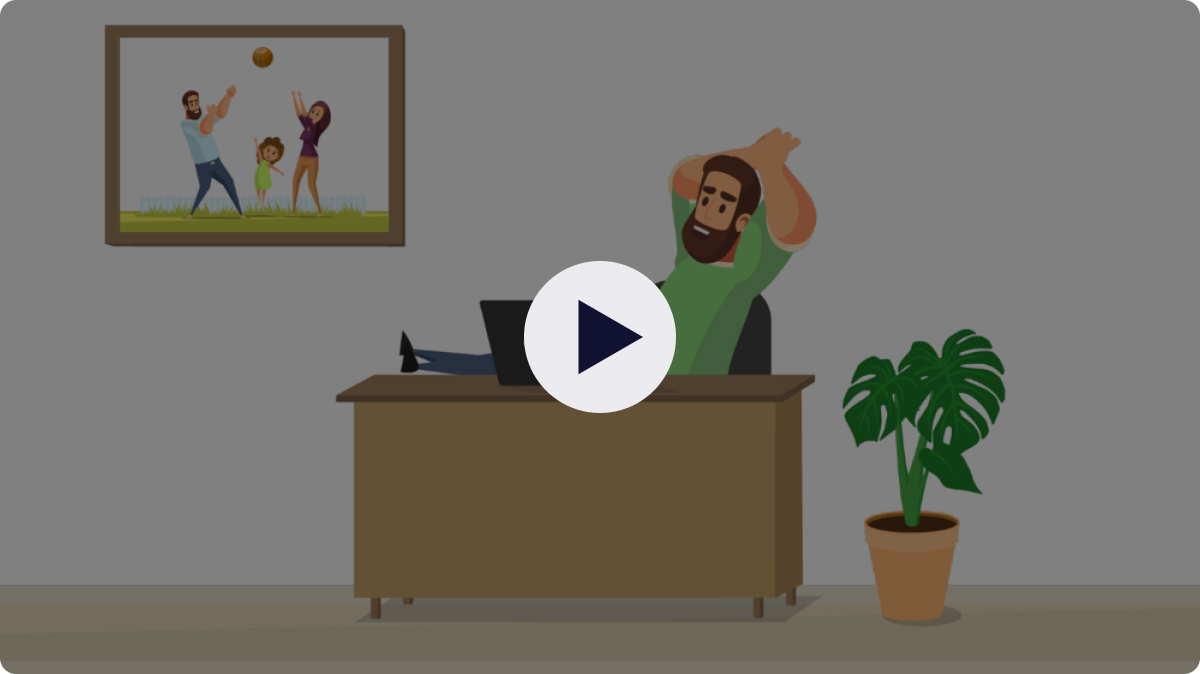 Estimate smarter, not harder
Drag and drop estimating like no other
Experience a new era of estimating with Acrual. Our drag and drop feature makes precision estimating a breeze.
Quickly build out estimates using your own customised library of labour and materials. Add and customise modules to perfectly represent your unique business and processes.
Just drag, drop, and create accurate estimates in minutes.
Instant estimate to quote
Automatically generated quotes from estimates
Say goodbye to manually typing out quotes and messing around with formatting in Word documents.
Acrual generates quotes without you having to copy and paste, re-doing layouts or manually entering or transferring data. All in one simple click.
Estimating software like you've never experienced.
No more manual handling
Email quotes to clients straight from Acrual
Have you ever wondered if it would be possible to automate sending quotes to customers? Quoting in Acrual makes this a reality.
When you're finished estimating, quotes can be emailed straight to clients without leaving Acrual. This makes it possible to do an entire quote on your smartphone, right from estimating through to sending the quote to the client.
Create professional quotes effortlessly.
Save time and win jobs
Respond to client requests faster than ever
We get it, when clients change their mind, or want pricing for alternatives, it can be frustrating.
With Acrual, you can adapt to client requests effortlessly with our advanced substitution feature. Substitute materials, labour or modules in just a couple of clicks.
Beat your competition every time by responding to clients in minutes, rather than hours or days.
Keep track of every dollar
Comprehensive reporting on estimates
Have you ever struggled to work out exactly what all the costs are in a project?
With Acrual you can generate a range of reports directly on your estimate to see exactly where every dollar is, right down to the individual screw or fitting.
Estimate with elevated accuracy.
See how easy it is with Acrual estimating software
Estimating a kitchenette
Watch as we quickly estimate a kitchenette using Acrual estimating software and automatically generate a quote document to send off to our client.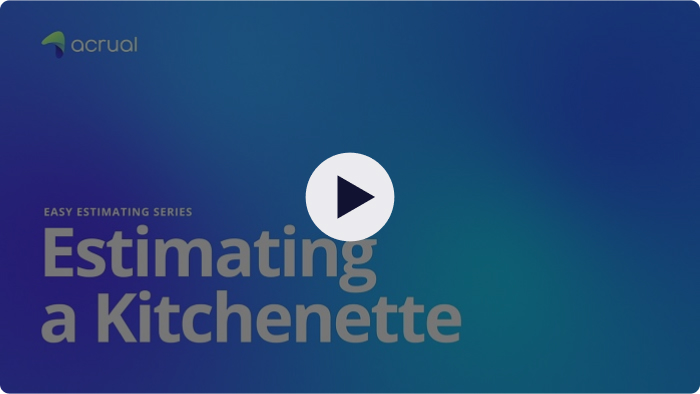 View more
Book a demo
Would you like to chat with us about how Acrual could work for your business? We'd love to chat! Book a demo and have a talk with us today.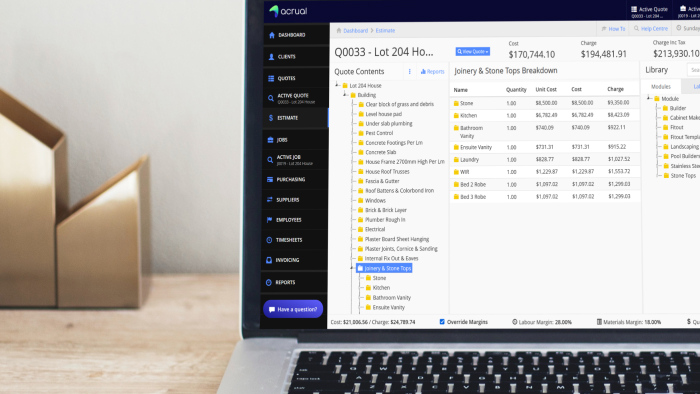 Book a demo
More from the Acrual blog
Published August 6, 2023
Selecting the best estimating software can be difficult. In this post we cover different types of estimating software, and how to choose the best. In today's rapidly changing world, estimating software has become a pivotal tool for business. It is used across many industries, from construction and manufacturing right through to industries like software development and IT.
Continue reading →